She loves nothing more than exploring a new locale, cuisine, or song. Like her youthful adoration of lego blocks, she still loves creating connections.
Rashida K. Braggs connects cultures. From the U.S.A. to France to Senegal, she moves from place to place excited by the shared and differing experiences across the world. Rashida was raised in North Carolina and Colorado, studied in New England and Chicago, started her career as a post-doc in California and professor in Massachusetts, and researches annually in Europe. Recent explorations have introduced her to West Africa. Rather than a disparate and random trajectory, these journeys have evolved her cultural awareness and positionality from one point to the next.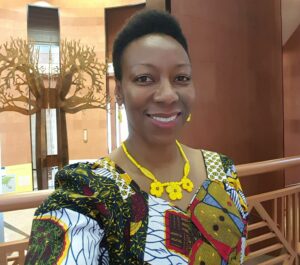 Point one? Jazz! As a youngster Rashida cherry picked the best cds from her father's CD towers. Her love of multiple musical genres, especially jazz, started there. Equally in love with writing and recitation, her professional training merged English and Theatre Studies in her B.A. at Yale University. Intrigue with the playful persuasive possibilities of language led her to study advertising for an M.S. in Mass Communications at Boston University and later to freelance and then work full-time as a copywriter in a design firm. Always passionate about connecting word and sound in particular, Rashida was seduced by the methodology of oral interpretation of literature. Northwestern University's predominance as a founder in this methodology in their department of Performance Studies made the perfect home for her Ph.D. Rashida merged her adoration of jazz music and literature with a teenage-old passion for French culture into her dissertation, 'American' Jazz: Traversing Race and Nation in Postwar France.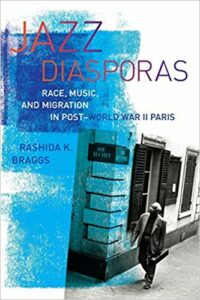 Her first monograph, Jazz Diasporas: Race, Music and Migration in Post-World War II Paris (2016) extends far beyond the dissertation, connecting that musical focus to other disciplines. The book analyzes music, literature, film, historical documents and ethnographic interviews in order to investigate the illusion of a color-blind Paris that seduced African American jazz musicians, the strategies they used to thrive in Paris, the positioning of the music and musicians by French and American cultural critics, and the transformations in personal identity that paralleled jazz's own morphing identity. The analysis in Jazz Diasporas was also undergirded by Rashida's performative research strategies; she created solo embodied performances on key case studies and themes while writing the book. Rashida continues to draw on performance as a critical research tool in her current research project "Paris Jazz Grooves as Black Women Move." In this manuscript and accompanying performance project, she investigates migratory experiences of black jazz women performers of African descent in, from and between Francophone cities around the world. Learn more about her research.
Could she walk another's path? Her body seeking their migrations… Dancing Rashida jams to Angélique Kidjo's fiercely sung "Ashe" as it echoes from Benin to the U.S.A.… Singing Rashida emulates Sidney Bechet's wavering horn that is forever fêted in France but forgotten by many in the U.S….
Rashida has pondered this question many times while creating interdisciplinary performances that commingle song, dance and spoken word. As a scholar-performer Rashida has danced to ethnographic interviews on singer and composer MFA Kera and interwoven song in her oral interpretation of James Baldwin's prose. As a professor she also believes performance is an invaluable teaching tool! She teaches students about the value of performing to explore and relate to global cultures, as well as for seeing themselves in the other. Learn more about her performances.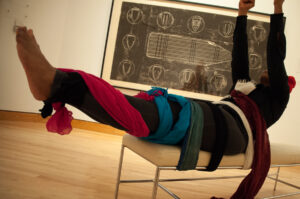 Starting her career as a postdoctoral fellow in the Introduction to Humanities program at Stanford University allowed her to innovate performance exercises in the courses she supported there: Race, Gender & the Arts of Survival, Arts & Ideas: Performance and Practice, Race & Reunion: American Memory and the Civil War, and Beyond Survival. Currently Rashida is Professor of Africana Studies and faculty affiliate in Comparative Literature at Williams College. In her multi-disciplinary pedagogy, she consistently introduces a performative lens to African diasporic cultural expressions in such courses as 13 Ways of Looking at Jazz, Black Migrations: African American Performance at Home and Abroad, Groovin' the Written Word: The Role of Music in African American Literature, and Performing Blackness. In addition to her courses, Rashida has conducted workshops that teach students how to analyze performance and create their own performances in order to better understand and engage with culture. Learn more about her courses.